We are pleased to announce the release of YammerFox, the Yammer Firefox extension. This lightweight Firefox extension places a small Yammer logo in the lower right corner of your Firefox browser. When new messages arrive, YammerFox pops up a small window displaying the message. You can click the Yammer logo to display a list of the last twenty messages, reply, or post new messages.
If you're looking for a non-intrusive, but powerful Yammer application, install YammerFox now. If you like it as much as we do, please leave a positive comment and a 5 star rating.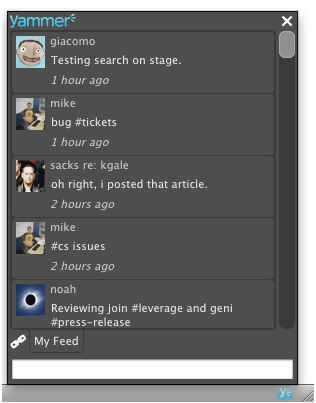 By the way, YammerFox is open source and uses code from Kazuho Okui's popular extension TwitterFox. If you're a developer, you can look at the source code on github.