Have multiple people, at different times, requested that you provide them with a certain document? Depending on your company or job position the document may vary, but for almost everyone the answer is yes. Yammer aims at solving this problem with the release of the Attachments feature.
The Attachments feature enables you to easily share any File or Image by attaching it directly to your message. This is the new Home page where you can see attachments being displayed within the messages.
If the attachment is an image (JPG, PNG, GIF), a thumbnail of the image will appear within the message.
Clicking the image thumbnail will direct you to the image page where you can view the images and discuss them with co-workers.
Alternately, if the attachment is a file (PPT, PDF, DOC, XLS, FLV, etc.), a link of the file will appear within the message. Clicking the link will direct you to download the file.
You will also notice 2 additional top level tabs. One for Files and one for Images.

Clicking the Files tab will direct you to the Files Directory where you can sort the files, enabling you to quickly and easily find the ones you are looking for.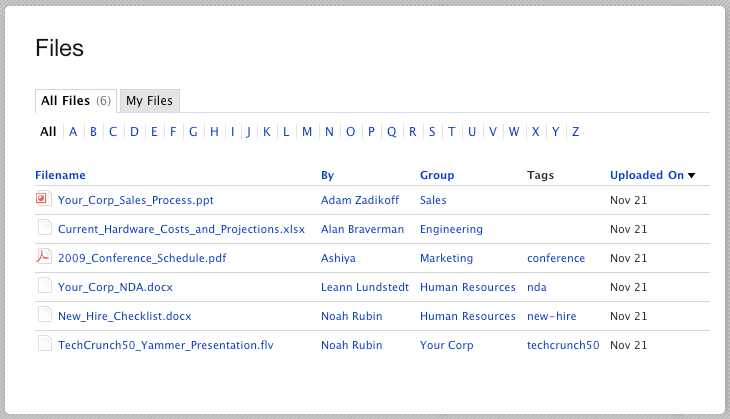 Clicking the Images tab will direct you to the Images Directory where you can view all the images. You can narrow the scope by clicking 'My Images, which will just display the images you added.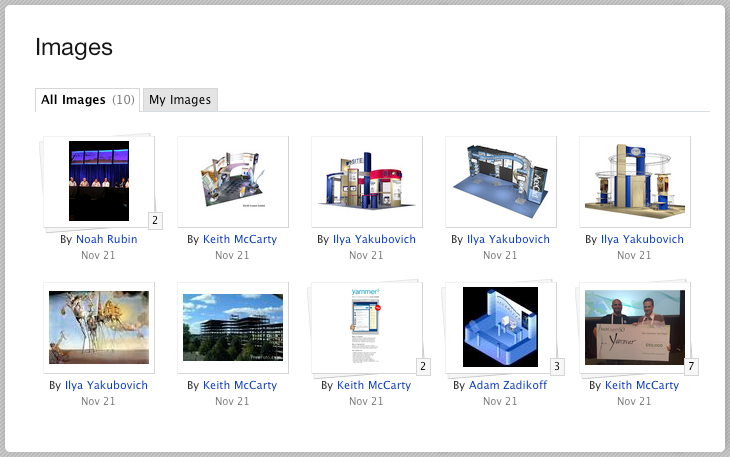 Read more on the Attachments feature
In addition to the attachments feature, some additional enhancements were made:
Group Search – When you search for a word, using the search bar in the upper right, the results are broken down into messages, members, tags, and now groups.
Group Links and Tag Clouds – When viewing a Group page, you can now segment just the tags and links that were used in that particular Group. This enhancement enables you to better find the information, sorted by tags and links, that is relevant to the group.
Deleting Groups – The Admin of each Group now has the ability to delete that Group at any time. This can be done through by clicking 'Edit Group' on the Group page and then clicking 'Delete Group.
My Links – You can now narrow the scope of the Links Directory by clicking 'My Links', which will just display the links that you posted.
Desktop Autocomplete – We have made available a Beta version of the desktop application that includes an autocomplete, of tags and people, feature. You can download the beta desktop application, if you would like to test it.