Since Yammer's official launch at TechCrunch50 we have received a vast amount of feedback, suggestions, and feature requests. Undoubtedly, our #1 request was for a Groups feature. We have listened closely to your feedback and are confident that you will find great value in the Groups feature that we have developed.
With Groups your Yammer network can more closely mirror the organizational structure that already exists at your company; members and messages can be organized by groups, as opposed to the entire network. For larger companies, Groups will help surface only the content that's most relevant to each user, further reducing noise.
In order to accommodate the Groups feature, we needed to update the design of Yammer. You'll notice the new column of vertical tabs on the right hand side of the Home page dedicated to the 4 default feeds:
My Feed - (Replaced the 'Following' feed) This custom feed only includes messages by the people and tags you follow, as well as the groups you join. By default, your general updates, all messages not posted to Groups, will appear in this feed. You can choose to not receive these updates by unfollowing your network's general feed by clicking the 'i' icon on the vertical tab and disabling your network's general feed.
All – The all feed includes all messages posted by everyone in your network, excluding private Group messages. You can view the network stats, previously located on the Home page sidebar, by clicking the 'i' icon on this tab.
Received – The Received feed includes any replies to your messages as well as all messages addressed to you.
Sent – The Sent feed displays all of the messages you have posted to Yammer.
Additional tabs are added for each additional Group you join.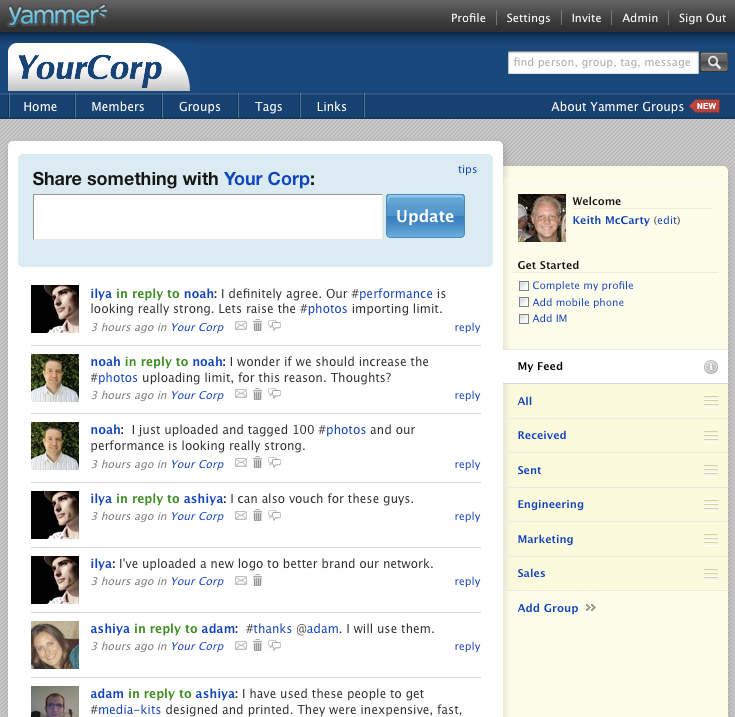 There are two types of Groups, private and public. Messages posted in private groups are only viewable by members of that group, and only Group Admins can invite users to join private groups. Anyone in your network can join or view messages posted in public groups.

To post an update to a Group that you have joined, simply click the Group's vertical tab on the Home page, add your message to the update box, and click Update.
You can also send updates to any private Group you have joined and any public Group that you have or haven't joined, via:

IM: start your IM with to:groupname

SMS: start your SMS with to:groupname

Email: address email to groupname@yammer.com

Any Client Feeds: start your update with to:groupname
For more information on the Groups feature, visit the Groups page in the How-To-Guide.
New top-level tabs for Groups and Links gives you faster access to these features.

In addition to the new design and the groups feature a couple of other enhancements have been added as well:
International SMS: The option to send messages to Yammer via SMS has always been available for US users. However, we just added the ability to send messages to Yammer via SMS for Internation users as well. Text 30201 in the U.S. or 447786207900 internationally to post a message.
OAuth: Now you can log in to applications developed through the Yammer

API

more securely (no need to give other applications your password). With this enhancement comes an Applications subtab within your settings that enables you to easily authorize or deauthorize applications.
Updates to our popular Desktop, Blackberry, and iPhone applications, to support these new features, will also be released. Read the release notes for the Desktop Application here. The iPhone application will be up on the iTunes store once it is approved.
Enter key does not submit message: This was another highly requested preference that you now have the option to enable through your Appearance settings, if you wish. Also, our Japanese users will appreciate this due to having to use the Enter key to create certain words.